 RESIDENTIAL &
COMMERCIAL LICENSED &
INSURED CERTIFIED &
LICENSED TECHNICIANS
Don't Skip Fall Fertilizing: Why It's Important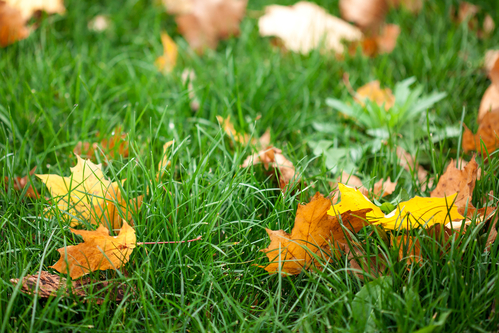 Did you know that fall is the most important season for fertilization?
Do you have questions about fall fertilization? Should you mow first? Wait until after it rains? When is the best time of the day to fertilize?
Summer heat can be stressful on our lawns, but the cooler temperatures in fall help the grass regain strength. Fall fertilization is important because:
Morning dew on chilly mornings delivers moisture to help your lawn absorb fertilizer
Root growth in the fall means a healthier lawn in the spring
Your grass will grow and build stamina before the cold winter
Don't Forget Leaf Maintenance!
While you're fertilizing and getting your lawn ready for fall, make sure you keep your leaf maintenance up to date, too.
It's important to rake your leaves because:
Lawns need to "breathe"
The lawn could be smothered by a layer of leaves if left on top for the winter, which could kill the grass before spring
A layer of leaves could be an invitation for pests
Mold and brown patches could develop underneath a layer of leaves
If leaves are matted down too thick, it could keep new blades from emerging in the spring
These are all true! Blessed with enough sunlight, nutrients, and water and fluctuating temperatures, cool-season grasses like Kentucky bluegrass (common here in Michigan) revitalizes itself in the fall and winter.
Grass will strengthen its root system, but it will have a hard time if there's a thick layer of fallen leaves on top.
Not All Fertilizer Companies near You are Created Equal
Before you hire a professional lawn care company for leaf removal, lawn cutting, or fertilizing, be sure to do your homework and find out more about them. Do they offer estimates? Do they require you to set a regular schedule? How is their reputation in the community?
At Ever So Green, we know how frustrating it can be to make an investment with a professional lawn care company only to get less than desirable results. For that reason, if you're not satisfied, simply call us; we'll make it right. We're committed to quality service and customer satisfaction.
Don't take it from us – listen to one of our satisfied customers!
"I started using Ever So Green 3 years ago and my lawn was a hot mess. Now I have a nice thick green lawn and couldn't be any happier with the transformation! I've talked with the owner several times about tips and tricks to get my lawn looking its best and he's always willing to help. THANK YOU!"
Request a quote today to get started!