When Should I Fertilize My Lawn?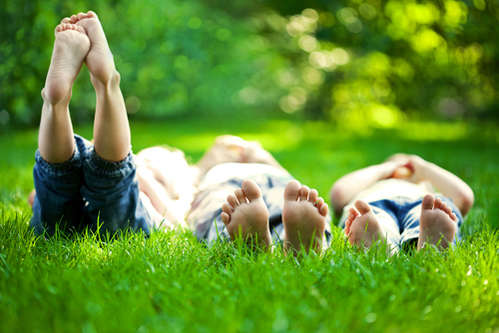 Keeping a healthy lawn is a year-round project, and fertilizing is a huge component. But when is the best time to fertilize?
How much fertilizer do you need?
What type of fertilizer is best for your lawn?
Many folks aren't even sure what type of grass they've got, much less know how or when to fertilize it. As the temperatures start to warm, it's time to formulate a lawncare plan. But where to begin?
Imagine spending your summer relaxing in your lush, velvety lawn. Warm sunshine, green grass and good times. It doesn't take a lot to get there. Expert professional lawncare makes this possible for homeowners every year, and with a little love and some great fertilizer, your lawn can be the best it's ever been.
Let's get right to it: the best options for fertilization in Michigan are:
Fertilizing
Fertilizer is a substance that contains plant nutrients. It plays a major role in producing and maintaining a dense, pest-resistant and greener lawn.
Crabgrass Control
This grass has a creeping or lying down stem in appearance and is often a pest in turf. This year's crabgrass comes from last year's crabgrass seeds. For best results controlling crabgrass, seedlings should be treated before they appear.
Broadleaf Weed Control
Typical Broadleaf weeds are Dandelions, Plantain and Thistle. These weeds are best controlled with a combination of two application treatments per year.
Turf Winterization
This application of fertilizer provides your lawn with nutrients that will aid in the protection of your lawn during the harsh winter months. It will also create a greener lawn in the spring.
At Ever So Green, our licensed technicians will create a fertilization plan to produce the best results for your lawn. We utilize high-quality slow release fertilizer to maximize results. In addition, we couple our custom fertilizer with weed and pest control options, ensuring total integrity of your lawn. We offer turf winterization, a specialized fertilizer that will protect your lawn through the harsh winter months and create a greener lawn in the spring.
If you want your lawn to meet its highest potential this summer, give our experts a call today. We can assess your lawn and create a fertilization plan that will maximize growth, color and texture.
Professional Lawn Care FAQs
Can I fertilize my lawn myself?
It is possible, but tricky, to fertilize your lawn yourself. You will have to figure out your grass type and soil pH in order to choose the best type of fertilizer. Fertilizer should be spread using a specialized spreader, and it must be spread evenly to avoid chemical burns. To ensure proper fertilization technique and the integrity of the final results, hiring a professional lawn care service is your best bet.
What is aeration?
Aeration is a technique that loosens compacted soil, allowing for air, water and fertilizer to reach the grass at its roots. Aeration rejuvenates your lawn, maximizing the effects of fertilizer and weed control. It is highly recommended to aerate your yard once a year, especially for lawns with dense soil.
For a free quote for fertilization and other lawn care techniques in Howell and the Livingston county area, call us at 517-540-1100